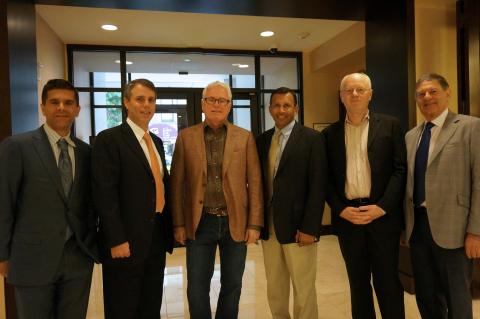 Save the date! On October 22, 2016 the California Center for Pituitary Disorders at UCSF invites you to attend its annual continuing medical education course covering the latest advances in pituitary tumors and related disorders. Endocrinologists, neurosurgeons, neurologists, primary care providers, trainees in these fields, nurse practitioners, physician's assistants, and other allied health professionals may all benefit from this program. 
This year we will be joined by an excellent group of guest speakers, including Beverly Biller, MD, an expert on Cushing's disease and adult growth hormone deficiency. 
View the full program schedule and registration information.
Photo: Faculty and guest speakers at our 2015 CME course. Manish Aghi, MD, PhD, Jason Sheehan, MD (University of Virginia), Lewis Blevins Jr., MD, Sandeep Kunwar, MD, Peter Goadsby MD, PhD (UCSF and King's College London), and Shlomo Melmed MB ChB, MACP, FRCP (Cedars Sinai).