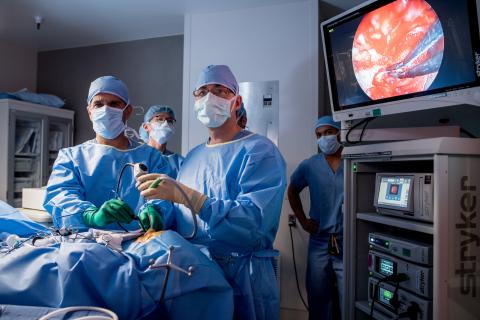 Recognizing that patients with pituitary disorders need coordinated care from a variety of specialists to ensure the best quality of life, the California Center for Pituitary Disorders (CCPD) at UCSF brings expertise from physicians within the disciplines of neurosurgery, neuroendocrinology, neuroradiology, radiation oncology, neuropathology, neurology, neuro-ophthalmology, and psychiatry.
"Patients typically see me and their neurosurgeon or other specialists that may be relevant to their case in the same clinic visit," said Lewis Blevins, MD, neuroendocrinologist and medical director of the CCPD. "We have patients that travel from all over the country and it's important to maximize their time with us and make sure they are getting a consensus from an expert team."
When patients return home, they have a plan to follow with their primary care providers and UCSF provides telemedicine options for patients outside the Bay Area who may need to connect with specialty providers for follow-up.
Surgical Expertise
The CCPD was formed in 2007 and built upon decades of excellence in pituitary surgery. Since 2007 over 3000 pituitary operations have been performed, making it one of the highest volume centers in the world. Studies of transsphenoidal surgery outcomes have consistently shown that larger surgical caseload, for hospitals and individual surgeons, correlates with better patient outcomes.1-3 At the CCPD, cure rates are above 90% and rates of complication, such as hypopituitarism and diabetes insipidus, are 7 times less than the national average for pituitary surgery.
"In the majority of cases we can remove all of the tumor, which cures patients of their symptoms," said Sandeep Kunwar, MD, surgical director of the CCPD. "But our primary focus is preserving the function of the pituitary gland and minimizing complications and hormonal dysfunction."
If the safest surgical course requires a subtotal resection, focused Gamma Knife radiosurgery can often be used for residual tumor following surgery and medical therapy is available for some residual hormonally active tumors.
Endoscopic Approach
Over the past decade, there has been dramatic growth in the use of the endoscope for transsphenoidal surgery for pituitary tumors.4 Originally used by otolaryngologists for sinus surgery, the endoscope provides wider and more flexible viewing angles, especially for large tumors that may have extended into other structures, like the third ventricle or cavernous sinus.
Aside from the improvements gained in visualization with the endoscope, the endoscopic transsphenoidal approach offers the benefit of a team-based multidisciplinary surgery. UCSF otolaryngologists Ivan El-Sayed, MD, and Jose Gurrola, MD, often collaborate with neurosurgeons during endoscopic pituitary surgeries, lending their expert knowledge of the nasal passage anatomy and helping to identify the surgical corridor. Having two surgeons working together gives patients the benefit of more expertise, and it can also shorten operating time. Like the microsurgical approach, the endoscopic approach is minimally invasive, requires no intranasal incisions, and allows the majority of patients to return home the day after surgery.
References
1. Swearingen B. Transsphenoidal surgery for pituitary tumors in the United States, 1996-2000: mortality, morbidity, and the effects of hospital and surgeon volume. J Clin Endocrinol Metab. 2003;88(10):4709-19.
2. Casanueva FF, Barkan AL, Buchfelder M, Klibanski A, Laws ER, Loeffler JS, Melmed S, Mortini P, Wass J, Giustina A; Pituitary Society, Expert Group on Pituitary Tumors. Criteria for the definition of Pituitary Tumor Centers of Excellence (PTCOE): A Pituitary Society Statement. Pituitary. 2017;20(5):489-498.
3. McLaughlin N, Laws ER, Oyesiku NM, Katznelson L, Kelly DF. Pituitary centers of excellence. Neurosurgery. 2012;71(5):916-26.
4. Rolston JD, Han SJ, Aghi MK. Nationwide shift from microscopic to endoscopic transsphenoidal pituitary surgery. Pituitary. 2016;19(3):248-50.