Gamma Knife Radiosurgery for Pituitary Tumors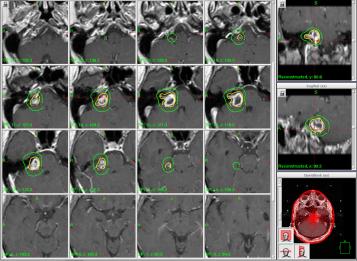 If a pituitary tumor invades into the cavernous sinus, Gamma Knife® radiosurgery can be performed to minimize radiation damage to the gland. The Gamma Knife delivers a single, finely-focused, high dose of radiation precisely to the target abnormality using the radiation from 201 cobalt-60 sources. The precision of the delivery system minimizes radiation dose to the surrounding normal tissue, thereby reducing the chances of side effects. It can be used to treat pituitary tumors as small as 2 mm in diameter.
UCSF Medical Center and UCSF Children's Hospital were the first Gamma Knife centers in northern California beginning in 1991 and operate today with the latest model, called the Perfexion® Gamma Knife. The UCSF Gamma Knife team has over 20 years of experience with radiosurgery and has treated over 3,600 patients.
---
CyberKnife Radiosurgery for Pituitary Tumors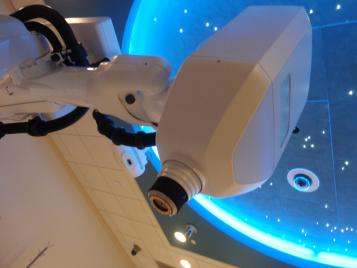 The CyberKnife® is a noninvasive radiosurgery system designed to treat tumors at any site in the body. This radiosurgery system uses a small linear accelerator as the radiation energy source and is positioned for treatment by a mechanical robot, similar to those used in the modern automobile industry. The CyberKnife at UCSF Medical Center is one of only nine in the United States. It offers patients a number of advantages over conventional radiation therapy, including:
noninvasive, painless treatment


treatment in 1 to 5 sessions rather than the multiple sessions of conventional radiation therapy


focused radiation that delivers maximum dosage to the tumor while minimizing the impact on healthy tissue


no skull frame to immobilize the patient during treatment.