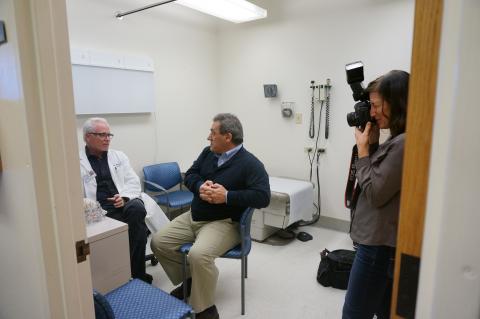 The California Center for Pituitary Disorders (CCPD) at UCSF was established four years ago as a multidisciplinary center designed to provide comprehensive care to all patients with newly diagnosed and pre-existing pituitary disorders. The program was built on decades of recognized excellence in neurosurgical care and research at UCSF. Under the leadership of neuroendocrinologist Lewis Blevins MD and neurosurgeon Sandeep Kunwar MD, the CCPD assembled a dynamic group of physicians with considerable experience in the evaluation and management of patients with diseases of the pituitary gland and hypothalamus. Today we are comprised of specialists within the disciplines of neurosurgery, neuroendocrinology, neuroradiology, radiation oncology, neuropathology, neurology, neuro-ophthalmology, and psychiatry.
A typical week at the CCPD includes six half-day clinics devoted to evaluating and treating newly referred and existing patients with various pituitary disorders. Neurological surgery and neuroendocrine clinics are held together. Hospital rounds are conducted several days per week to manage postoperative patients and evaluate new consults pertaining to pituitary disorders and hyponatremia.
We typically perform as many as four to eight transsphenoidal surgical procedures per week, with excellent results. We achieve high remission rates in patients with hormone-secreting pituitary neoplasms, gross total resection of a majority of pituitary tumors, and a low incidence of postoperative complications such as hypopituitarism and diabetes insipidus. Center physicians are available for either consultation or assumption of care regarding diagnostic and management strategies for patients with pituitary tumors and other disorders of the hypothalamic-pituitary unit.
Our faculty are involved in basic and clinical research for pituitary disorders, including outcomes research that has provided new guidelines for patient care. As part of a world-class university hospital, we are committed to education and are available to speak at conferences, seminars, and grand rounds. We host a continuing medical education conference annually. Our center has also been a supporter and an advocate of the Pituitary Network Association, an international nonprofit patient support group.
We are extremely proud of the work that has been accomplished at the CCPD over the last four years, and have succeeded in implementing unique strategies to permit the delivery of efficient, timely, state-of-the-art care to patients. We are committed to excellence in patient care, to the advancement of knowledge regarding all aspects of pituitary diseases, and to education and involvement of referring physicians in the care of their patients referred to our center. We are honored to assist you in the care of your patients.